A Trade Mission like no other!!
Experience the best…Sell into Europe
22nd – 29th April 2023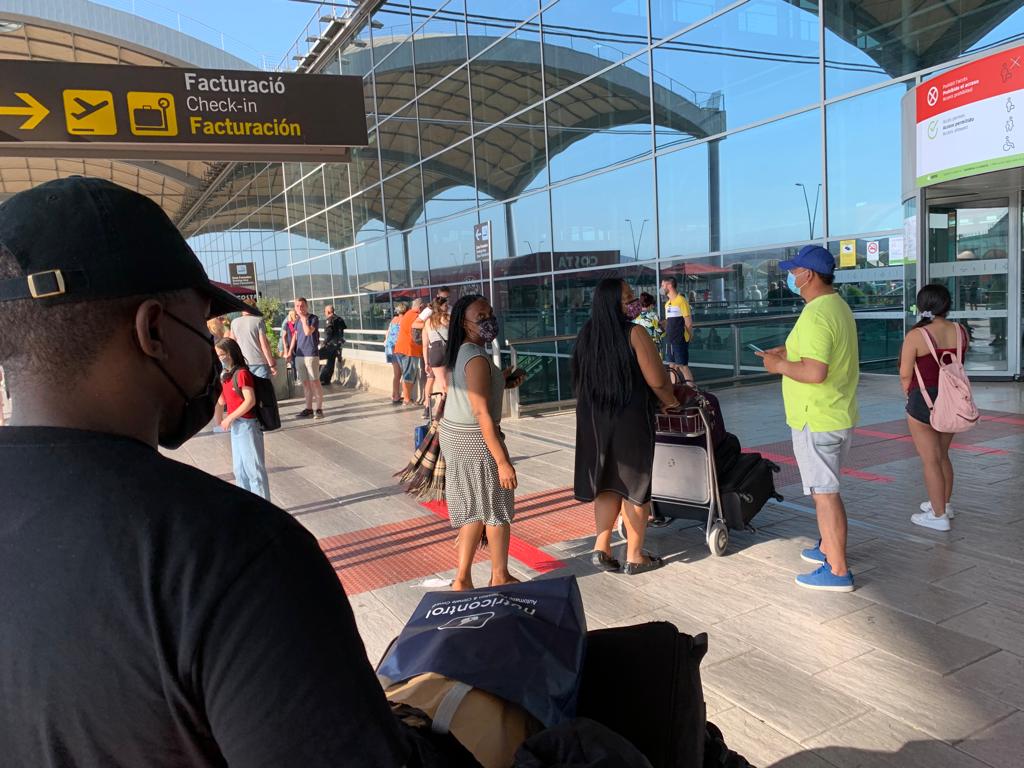 Imagine that over seven days, you would be transported as if by magic to a destination you never even considered possible, where you would visit some of the most advanced and frontier companies in Agriculture and Food production in the world. And grab the opportunity to sell your produce to European buyers.
Let us make this dream of becoming the best at your business come true!!!
Come with us to Murcia, the Iberian Peninsular in Spain, the most innovative and successful Agriculture and Food Production region in Europe. An all-in-one trip.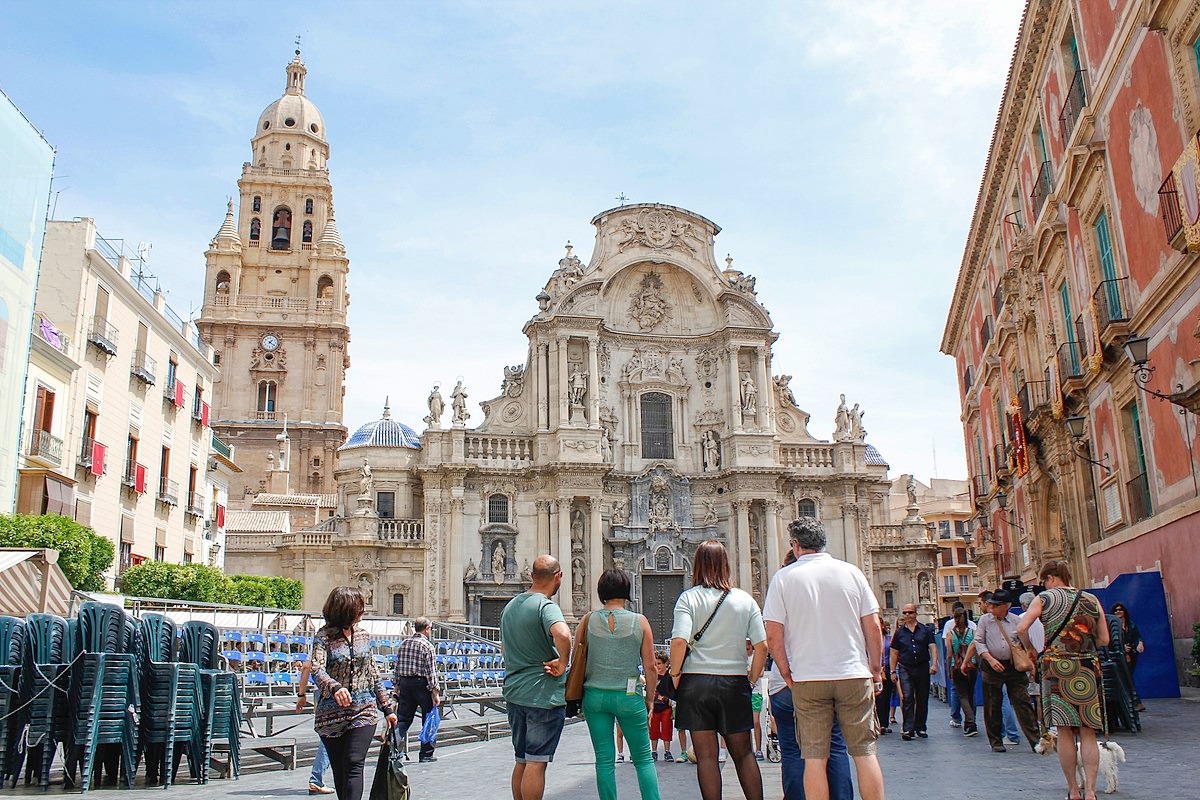 SEE YOUR FUTURE NOW!!
For two years now, AVAS Consulting has flown hundreds of delegates to this secret food basket of Europe. You will meet nearly 15 different world class companies in all sectors of Agriculture and Food production and make new life-changing contacts over 3 days of intense travel all over the Iberian Peninsular.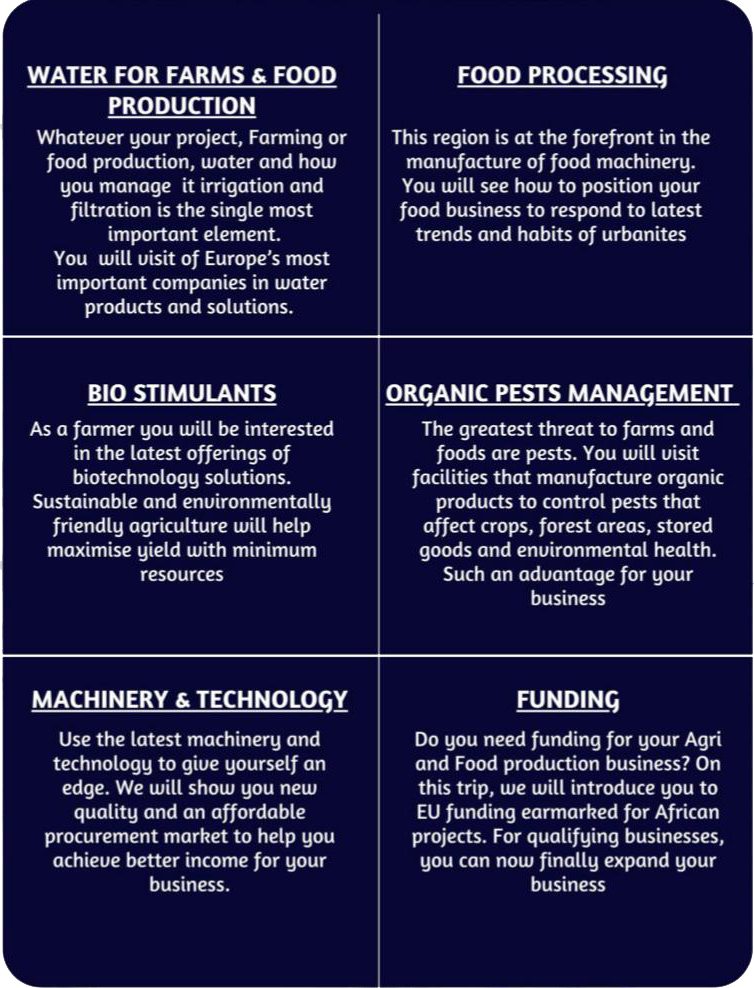 At the end of which, you will see how you can implement the future of Agribusiness to your own business and projects.
[ Useful ideas that you can use today ]
MEET-THE-BUYERS EXPO
[ Sell your products to European wholesalers and importers ]
On day 4 and 5, we have organised a meet-the-buyers mini expo. Specially for you to show your African commodities to buyers across the region and Europe. A once in a life time sales and marketing opportunity to meet difficult to reach buyers of what you are able to export from Africa.
SEEK NEW POWERS FOR YOUR BUSINESS
YOUR ITINERARY

DAY

1


Saturday 22nd of April:

Fly out of Africa to Europe. Along with other top Agri and Food business people. Start your networking from the airport and flights.

DAY

2


Sunday 23rd of April:

Arrive after connecting flight to Alicante airport. You will be met at the airport by AVAS Staff who will escort you to the luxury coach that will be your mode of transport for the next few days.

Evening Dinner in a local Murcia restaurant, organised by AVAS. This is an introductory dinner where you meet the rest of the delegates from all over Africa and start networking

DAY

3


Monday 24th of April:

After breakfast, we will be picked up by coach between 8am and 9, and visit 3 – 4 different Farms, Agri. and Food Production facilities including machinery, process lines, technology etc.

You will get to spend hours with these facilities and learning and discussing with the host how you can upscale your own project.

After many miles, grabbing lunch with our hosts or on the way, we will return to the hotel usually around 5pm.

DAY

4


Tuesday 25th of April:

After breakfast, we will be picked up by coach between 8am and 9. We will visit 3 – 4 different facilities and enjoy the same business trip of a life time.

DAY

5


Wednesday 26th of April:

After breakfast, we will be picked up by coach between 8am and 9. This will be the final day of our visits to facilities in the region.

We would have covered hundreds of miles of the beautiful Iberian Peninsular, seen nearly 20 companies in all sectors of Agriculture. We would have gained new amazing contacts and perhaps even started to discuss how best to procure and implement that project you have considered for a long time.

DAY

6


Thursday 27th of April:

An African 'meet-the-buyer expo.

For those of you who have registered to enjoy this service. Buyers from Spain and beyond who are specifically looking to import African Foods and Agricultural commodities will visit our expo at the hotel.

You can make contact, show your product samples, discuss prices and perhaps start a supply relationship.

All the buyers will be given an Expo booklet which will have your details on anyway.

This is a great opportunity to meet with difficult to reach buyers.

9am – welcome address
From 10am – 4.30pm

DAY

7


Friday 28th of April:

Day 2 of the 'Meet-the-buyer' expo
Starting at 10am – 4pm

DAY

8


Saturday 29th of April:

Departure day. Alicante has many sights that would interest tourists and most evenings and today before your evening flight back to your home country is an opportunity to enjoy this beautiful part of Spain.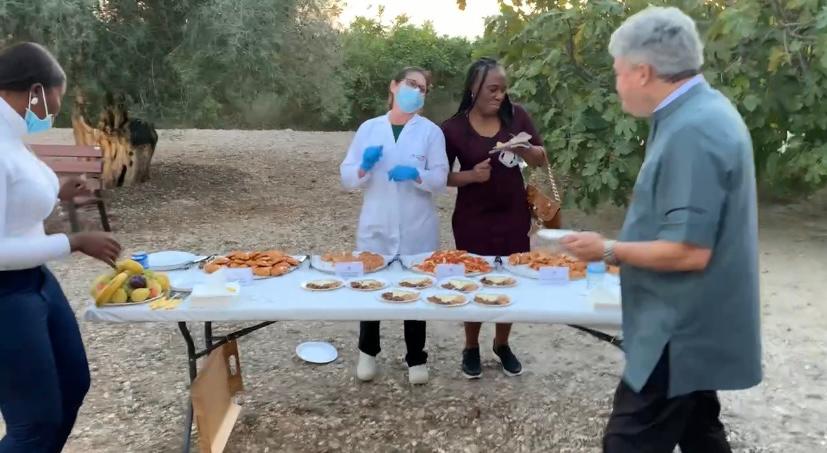 WORK HARD, AND THEN THERE IS SOME PLAY.
After busy days gaining life-changing knowledge, awaiting you is world-class hospitality at the region's best hotel. Always transported by luxury coach. There is culture and sights available for your leisure that will live long in the memory
WE HAVE DONE THIS BEFORE;



PACKAGE
$3,999

INCLUDES:

• Visa (from certain countries) plus $250 per delegate
• Flights (economy seats)
• Hotel and Breakfast (best hotel in the region)
• Trade mission visits
• Stand at 'meet-the-buyer expo'
• Closing date to book and pay: March 24th 2023

You can book an appointment with our managing partner to discuss your trip >>>>>
Chat with us on WhatsApp